Registered nurses can help you find a location or specialist that's right for you.
Call 404-778-7777
7:30 a.m. to 6 p.m. EST (M-F)
Advanced imaging and diagnosis by an expert team
When your heart or lungs aren't healthy, you need to know why. Our radiology and cardiology specialists use advanced diagnostic imaging services to detect problems with your heart and lungs. Here are some of the respiratory (breathing) and cardiovascular (heart) conditions we look for:
Cardiomyopathy
Congenital defects
Congestive heart failure
Pericarditis
Valve disease
Aneurysms
Heart disease
Lung cancer
To schedule an appointment, call 404-778-7777.
Download this guide when you're getting ready for your procedure
How Can We Help You Today?
Need help? We will be delighted to assist you today, so please call us at 404-778-7777. We look forward to hearing from you.
Talk to Our Nurses
Registered nurses can help you find a location or specialist that's right for you.
7:30 a.m. to 6 p.m. EST (M-F)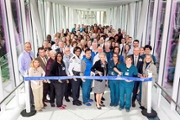 News
Emory University Hospital opens new pedestrian bridge to hospital tower
February 21, 2017
Clinical Trials
About Our Clinical Trials
Our new clinical trials site makes it easy to access nearly 1,000 Emory studies.
Blog
Advancing your health
Your opportunity to interact with doctors, staff and patients.
Emory Clinic
About Our Clinics
Our physicians and surgeons are responsible for some of the most significant innovations and treatments in the country.