Healthconnection℠ 
404-778-7777
Registered nurses can help you find a location or specialist that's right for you.
Call 404-778-7777
7:30 a.m. to 6 p.m. EST (M-F)
social information if applicable
To refer a patient or get more information, call the HealthConnection Physician Consult Line at 404-778-5050.
For hospital transfers or emergency calls after hours, call the transfer center at 404-778-4930.
When you need specialized expertise and technology to serve your patients with heart or vascular issues, the Emory Heart and Vascular Center is a partner you can rely on. Physicians serving patients across the state and beyond turn to us for:
Access to a highly respected team and the latest proven diagnostic and therapeutic options, including minimally invasive surgery and procedures
Consultation to confirm a diagnosis or help design a treatment plan
A commitment to collaboration and keeping referring physicians informed
Coordinated care and a positive experience for your patients
Services and technology that are unmatched in the region
U.S. News & World Report named Emory University Hospital No. 16 in the nation for cardiology and heart surgery
23 Georgia locations to serve your patients
Access our resources with one phone call to the HealthConnection Physician Consult Line at 404-778-5050. Our referral processes will ensure streamlined, coordinated care delivered promptly and appropriately. For instance, we offer next-day general cardiology appointments at one of our 23 locations.
About the Emory Heart & Vascular Center
Emory Heart and Vascular Center brings together advanced expertise and technology in cardiology, vascular surgery, cardiothoracic surgery and cardiac imaging. The collaboration between all four specialties delivers seamless, multidisciplinary care for your patients and allows for quick access to other specialties as needed. As an academic medical center, many of our physicians are faculty of the Emory University School of Medicine as well as clinicians and researchers.
Learn more about Emory Heart & Vascular clinical trials.
The latest news
We'd like to keep in touch. Provide your email address (sign up using the form to the right) so we can send you the latest news, case studies, innovations, research & educational programs from Emory Heart & Vascular Center.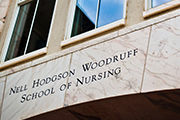 News
Emory University Nell Hodgson Woodruff School of Nursing launching a Master in Cardiovascular Perfusion Science program
January 12, 2023
Clinical Trials
About Our Clinical Trials
Our new clinical trials site makes it easy to access nearly 1,000 Emory studies.
Blog
Advancing your health
Emory Heart & Vascular Center blog: your opportunity to interact with doctors, staff and patients.
Emory Clinic
About Our Clinics
Our physicians and surgeons are responsible for some of the most significant innovations and treatments in the country.
Emory Heart & Vascular: For Referring Physicians
Learn More
For direct assistance with patient referrals or to arrange a physician visit to your practice, please provide the following information: