Registered nurses can help you find a location or specialist that's right for you.
Call 404-778-7777
7:30 a.m. to 6 p.m. EST (M-F)
Dizziness and Balance Center
The Dizziness & Balance Center specializes in treating patients with dizziness, vertigo and balance disorders and has several ongoing research projects. Specific interests include Meniere's disease, benign paroxysmal positional vertigo (BPPV), vestibular neuritis, ototoxicity, nystagmus, balance and falls. The Dizziness and Balance Center at Emory consists of a multi-specialty group of physicians and physical therapists with specialists from Neurology, Physical Therapy, Ophthalmology and Otolaryngology.
How Can We Help You Today?
Need help? We will be delighted to assist you today, so please call us at 404-778-7777. We look forward to hearing from you.
Talk to Our Nurses
Registered nurses can help you find a location or specialist that's right for you.
7:30 a.m. to 6 p.m. EST (M-F)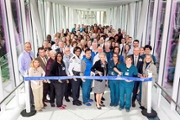 News
Emory University Hospital opens new pedestrian bridge to hospital tower
February 21, 2017
Clinical Trials
About Our Clinical Trials
Our new clinical trials site makes it easy to access nearly 1,000 Emory studies.
Blog
Advancing your health
Your opportunity to interact with doctors, staff and patients.
Emory Clinic
About Our Clinics
Our physicians and surgeons are responsible for some of the most significant innovations and treatments in the country.