Registered nurses can help you find a location or specialist that's right for you.
Call
404-778-7777
7:30 a.m. to 6 p.m. EST (M-F)
Ga.'s Most Trusted Health Brand
Emory Healthcare ranked "Most Trusted Health System Brand" in Georgia and top 10 nationwide.
Patient Portal
Use this online tool to look up results, send a message to your provider teams, renew your prescriptions, view upcoming appointments, and much more.
Emory Clinic Announces Magnet Site Visit
The Emory Clinic begins its journey for Magnet certification, which recognizes excellence in nursing services and is the highest international recognition of its kind.
Learn More
Do you have COVID-19 symptoms?
Emory Healthcare is committed to keeping you informed, and your safety is our top priority.
LEARN WHAT TO DO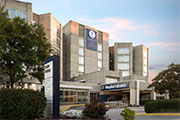 News
Emory Saint Joseph's Hospital research team finds significant reduction in C. diff infections through interprofessional collaboration
May 13, 2022
Blog
Telehealth: A Rising Trend with Staying Power
Emory Healthcare plans to continue to improve its telehealth offerings.
Videos
Your Fantastic Mind
Emory Brain Health Center and Georgia Public Broadcasting (GPB) have partnered to create an Emmy award-winning TV series featuring compelling stories on brain health and wellness.
News
Medicare Insurance Resources
Emory Healthcare has the resources for comparing and choosing a Medicare plan.
Clinical Trials
About Our Clinical Trials
Emory doctors do more than practice medicine – they advance it. Through research and clinical trials, we're developing new and better ways to prevent and treat disease. 
Blog
Advancing your health
Your opportunity to interact with doctors, staff and patients.
Emory Clinic
About Our Clinics
Our physicians and surgeons are responsible for some of the most significant innovations and treatments in the country.
Emory Clinic
Urgent Care & MinuteClinic now available
The Emory Healthcare Network now includes nearly 60 urgent care and MinuteClinic locations throughout metro Atlanta and in surrounding communities.