Registered nurses can help you find a location or specialist that's right for you.
Call
404-778-7777
7:30 a.m. to 6 p.m. EST (M-F)
Find a Provider
Browse online or speak directly with a nurse. We'll help you find the Specialist or Primary Care Physician that's right for you.
Patient Portal
Use this online tool to look up results, send a message to your provider teams, renew your prescriptions, view upcoming appointments, and much more.
Three Emory Hospitals Listed As Best in Georgia
Three Emory hospitals were recently named as the best in Georgia and were ranked highly in the nation in Newsweek's World's Best Hospitals 2020 list.
Learn More
Our Network at a Glance
Emory is your one-stop shop for all of your health care needs, both in sickness and in health.
Please Note: Recently, Emory's network has expanded with the addition of DeKalb Medical's locations.*
* The former DeKalb Medical website (www.dekalbmedical.org) will continue to function while we work to integrate our operations and services.


Emory Healthcare partners with urgent care centers and MinuteClinics throughout the Atlanta area.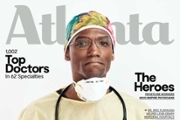 News
Emory physicians represent nearly half of 2020 'Top Doctors' list in Atlanta magazine
June 30, 2020
Press Release
Emory Healthcare and Sharecare to launch Emory Healthcare Innovation Hub
Emory Healthcare and Sharecare announced the forthcoming launch of The Emory Healthcare Innovation Hub. 
Videos
Your Fantastic Mind
Emory University and the Emory Brain Health Center are partnering with Georgia Public Broadcasting (GPB) on a new television series, Your Fantastic Mind, that features compelling stories on brain-related health and wellness.
News
Know Where to Go Care Guide
Choosing the right location for the right care makes all the difference.
Clinical Trials
About Our Clinical Trials
Our new clinical trials site makes it easy to access nearly 1,000 Emory studies.
Blog
Advancing your health
Your opportunity to interact with doctors, staff and patients.
Emory Clinic
About Our Clinics
Our physicians and surgeons are responsible for some of the most significant innovations and treatments in the country.
Emory Clinic
Urgent Care & MinuteClinic now available
The Emory Healthcare Network now includes nearly 60 urgent care and MinuteClinic locations throughout metro Atlanta and in surrounding communities.