Registered nurses can help you find a location or specialist that's right for you.
Call 404-778-7777
7:30 a.m. to 6 p.m. EST (M-F)
General Internal Medicine
The internal medicine physicians offer specialized expertise in the prevention, diagnosis and treatment of adult diseases, both major and minor. Our internists are trained to solve puzzling diagnostic problems and handle severe chronic illnesses, with a knowledge and understanding that can help guide a patient to the correct subspecialty support, if required.
They also bring to patients an understanding of wellness including disease prevention and the promotion of health along with women's health, substance abuse, mental health and the effective treatment of common problems of the eyes, ears, skin, nervous system and reproductive organs.
How Can We Help You Today?
Need help? We will be delighted to assist you today, so please call us at 404-778-7777. We look forward to hearing from you.
Talk to Our Nurses
Registered nurses can help you find a location or specialist that's right for you.
7:30 a.m. to 6 p.m. EST (M-F)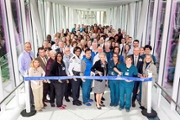 News
Emory University Hospital opens new pedestrian bridge to hospital tower
February 21, 2017
Clinical Trials
About Our Clinical Trials
Our new clinical trials site makes it easy to access nearly 1,000 Emory studies.
Blog
Advancing your health
Your opportunity to interact with doctors, staff and patients.
Emory Clinic
About Our Clinics
Our physicians and surgeons are responsible for some of the most significant innovations and treatments in the country.