Registered nurses can help you find a location or specialist that's right for you.
Call 404-778-7777
7:30 a.m. to 6 p.m. EST (M-F)
Clinically Integrated Network
The Emory Healthcare Network is a clinically integrated network through which we provide access to coordinated patient- and family-centered care. With six hospitals, 200 provider locations and 2,000 physicians in more than 70 specialties, the Network delivers care through a full range of hospitals, clinics and local practices, including more than 120 primary care locations, over 20 urgent care locations and 38 MinuteClinics.
Our network joins together Emory-employed and private practice physicians in communities throughout metro Atlanta and the state, in collaboration with Emory Healthcare, into a single comprehensive care management system. By collaborating around a common set of quality measures and goals, the Emory Healthcare Network creates a level of accountability that ensures you, our patients and your families receive the standard of care you deserve. As Georgia's most comprehensive integrated network, access to Emory Healthcare Network physicians – and a wide array of services – is closer than you think.
Find a Physician
Browse online or speak directly with a nurse. We'll help you find the Specialist or Primary Care Physician that's right for you.
How Can We Help You Today?
Need help? We will be delighted to assist you today, so please call us at 404-778-7777. We look forward to hearing from you.
Talk to Our Nurses
Registered nurses can help you find a location or specialist that's right for you.
7:30 a.m. to 6 p.m. EST (M-F)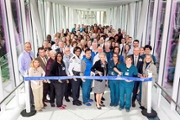 News
Emory University Hospital opens new pedestrian bridge to hospital tower
February 21, 2017
Clinical Trials
About Our Clinical Trials
Our new clinical trials site makes it easy to access nearly 1,000 Emory studies.
Blog
Advancing your health
Your opportunity to interact with doctors, staff and patients.
Emory Clinic
About Our Clinics
Our physicians and surgeons are responsible for some of the most significant innovations and treatments in the country.