Registered nurses can help you find a location or specialist that's right for you.
Call 404-778-7777
7:30 a.m. to 6 p.m. EST (M-F)
Rapid Response by Stroke Experts
When you or a loved one show signs of a stroke, the chances of recovery are best if it's diagnosed and treated right away. With certified Comprehensive and Primary Stroke Centers, we can provide the rapid response you need. And, as an academic medical center, we have access to the most advanced research and technology available to provide you outstanding stroke care and improve your chances for optimal recovery.
Specialized Care For Stroke Patients
Lifestyle, environment and genes can all factor into strokes. That's why Emory Stroke Center doctors and staff in different areas of stroke care work closely together. Our team makes sure you get the right care at every stage of treatment — from the first stroke symptom through recovery.
Exceptional care comes with focus and experience. Even the most specialized procedures in stroke care are part of our daily routine. You get a level of care and expertise you won't find at other hospitals, because stroke care is what we do, day in and day out.
Stroke Treatment & Services
Emory Stroke Center offers a number of services to prevent and treat any kind of stroke or stroke complication. Those services include:
Preventive Education & Treatment
Emergency Services
Diagnostic Services
Therapy Services
Nervous System Disease Care
Rehabilitation Services
To schedule an appointment or learn more about stroke, please call 404-778-5770.
How Can We Help You Today?
Need help? We will be delighted to assist you today, so please call us at 404-778-7777. We look forward to hearing from you.
Talk to Our Nurses
Registered nurses can help you find a location or specialist that's right for you.
7:30 a.m. to 6 p.m. EST (M-F)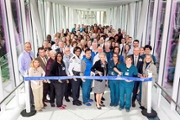 News
Emory University Hospital opens new pedestrian bridge to hospital tower
February 21, 2017
Clinical Trials
About Our Clinical Trials
Our new clinical trials site makes it easy to access nearly 1,000 Emory studies.
Blog
Advancing your health
Your opportunity to interact with doctors, staff and patients.
Emory Clinic
About Our Clinics
Our physicians and surgeons are responsible for some of the most significant innovations and treatments in the country.