Registered nurses can help you find a location or specialist that's right for you.
Call 404-778-7777
7:30 a.m. to 6 p.m. EST (M-F)
Treating Atrial Fibrillation (A-fib) and Arrhythmias
If your heart has a rhythm disorder, you may be at increased risk for stroke, heart failure and other serious complications. Our heart specialists at the Emory Arrhythmia Center, known as Electrophysiologists, offer advanced treatment for atrial fibrillation (A-fib) and heart arrhythmias. We are leaders in cardiac resynchronization therapy (CRT) and cardiac ablation, the most common treatments for arrhythmia.
Specialized Labs and Equipment
Emory's specialized electrophysiology (EP) labs have advanced capabilities that include three-dimensional mapping systems. This gives us greater accuracy for determining where an arrhythmia is coming from, what medicines might work best for you and if we should do a catheter ablation.
Although pacemakers and defibrillators are designed to be a permanent part of your body, occasionally the leads must be removed because they have become infected or they are not working properly. We use an excimer laser system for this procedure. This new method for lead removal is highly effective and our patients experience minimum discomfort and a short recovery period.
Leading Clinical Research
Through ongoing research, treatment options for atrial fibrillation (A-fib, AF) and atrial flutter (a-flutter) will continue to improve. By leading clinical trial research, our doctors are helping to guide the search for new treatments and technologies. We are the only center in Georgia participating in a trial that provides alternatives to blood thinners for preventing strokes in patients with A-fib. We also have ongoing clinical trials of new pacemakers, defibrillators, ablation catheters, as well as new ways to use existing devices to help patients.
Did you know?
Emory Heart & Vascular Center offers a support group for all patients with atrial fibrillation (AF or A-Fib) and their family members.
How Can We Help You Today?
Need help? We will be delighted to assist you today, so please call us at 404-778-7777. We look forward to hearing from you.
Talk to Our Nurses
Registered nurses can help you find a location or specialist that's right for you.
7:30 a.m. to 6 p.m. EST (M-F)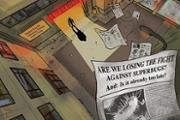 News
Are we facing a future without antibiotics?
February 20, 2017
Clinical Trials
About Our Clinical Trials
Our new clinical trials site makes it easy to access nearly 1,000 Emory studies.
Blog
Advancing your health
Your opportunity to interact with doctors, staff and patients.
Emory Clinic
About Our Clinics
Our physicians and surgeons are responsible for some of the most significant innovations and treatments in the country.