Registered nurses can help you find a location or specialist that's right for you.
Call 404-778-7777
7:30 a.m. to 6 p.m. EST (M-F)
Emory Women's Heart Center
Welcome
If you're at risk for women's heart disease, need cardiovascular screening or want to prevent heart problems, Emory's Women's Heart Center is your home for heart healthy care. We are a collaborative group of providers that treat our patients using a team approach. Cardiologists, nurse practitioners, nurses, nutritionists, therapists and other staff — mostly women — make you feel comfortable and understood. You'll also have access to other Emory Healthcare Network specialists if needed. Some of the services we offer include:
Heart screenings for women
Diagnosis and care for women with heart symptoms
Cardiologists (heart specialists) trained in women's heart diseases
Preventive programs to keep your heart healthy
The 10,000 Women Project
The 10,000 Women Project, an initiative of the Emory Women's Heart Center, offers free cardiovasacular risk screenings to African-American women in Metro Atlanta. With the increased incidence of of hypertension in...
Help Reducing Your Heart Risks
It's one thing to know what you should do to lower your heart risks. Doing them takes time, focus and support — which are challenges for many women. We're here to give you the extra support you need to meet your goals. We offer counseling to help you:
Choose diet, exercise and weight loss programs
Understand how stress, obesity, depression and menopause can affect your heart health
Make lasting lifestyle changes
Did you know?
Heart disease is now the #1 killer in women. The good news is, most heart disease is preventable — and early detection saves lives.
How Can We Help You Today?
Need help? We will be delighted to assist you today, so please call us at 404-778-7777. We look forward to hearing from you.
Talk to Our Nurses
Registered nurses can help you find a location or specialist that's right for you.
7:30 a.m. to 6 p.m. EST (M-F)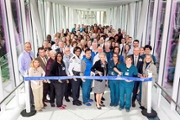 News
Emory University Hospital opens new pedestrian bridge to hospital tower
February 21, 2017
Clinical Trials
About Our Clinical Trials
Our new clinical trials site makes it easy to access nearly 1,000 Emory studies.
Blog
Advancing your health
Your opportunity to interact with doctors, staff and patients.
Emory Clinic
About Our Clinics
Our physicians and surgeons are responsible for some of the most significant innovations and treatments in the country.