Registered nurses can help you find a location or specialist that's right for you.
Call
404-778-7777
7:30 a.m. to 6 p.m. EST (M-F)
Spontaneous Coronary
Artery Dissection:
Treatments
social information if applicable
Spontaneous Coronary Artery Dissection Treatments
It is important that patients with a diagnosis of SCAD see a clinician experienced in diagnosis and treatment of this disease. Treatment for SCAD includes medications, education on lifestyle and exercise, occasionally genetic testing, imaging, and evaluation for etiologies and associated disorders. Rarely, invasive therapies such as stents or bypass surgery is considered.
Emory Healthcare has a dedicated SCAD Program. Click below to view program details.
Spontaneous Coronary Artery Dissection
How Can We Help You Today?
Need help? We will be delighted to assist you today, so please call us at 404-778-7777. We look forward to hearing from you.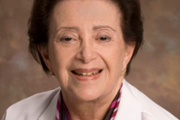 News
American Heart Association names award for Emory pioneering cardiologist Nanette Wenger
May 27, 2021
Clinical Trials
About Our Clinical Trials
Our new clinical trials site makes it easy to access nearly 1,000 Emory studies.
Blog
Advancing your health
Emory Heart & Vascular Center blog: your opportunity to interact with doctors, staff and patients.
Emory Clinic
About Our Clinics
Our physicians and surgeons are responsible for some of the most significant innovations and treatments in the country.