Registered nurses can help you find a location or specialist that's right for you.
Call 404-778-7777
7:30 a.m. to 6 p.m. EST (M-F)
Advanced Heart Failure Therapy Program
Heart failure therapy and research at Emory Healthcare
Find heart care you can count on at Emory's Advanced Heart Failure Therapy Center. We work to advance heart failure therapy and improve patient outcomes every day. We focus on patients and their families first while continuing research and education.
Emory Advanced Heart Failure Therapy Center: National leaders in heart failure care
The Emory Advanced Heart Failure Therapy Center is one of nine members of the Heart Failure Clinical Research Network (HFCRN). The National Institute of Health selects each HFCRN member. This exclusive group of advanced heart failure centers studies heart failure diagnosis and treatment.
Emory heart surgeons implanted Georgia's first ventricular assist device (VAD)
Emory cardiac surgeons implanted Georgia's first ventricular assist device (VAD) in 2006. This was the first example of VAD as a destination therapy in the state. Destination therapy provides long-term support in patients who are not candidates for transplant. Just a few years later, our VAD Program earned the Joint Commission Gold Seal of Approval for Destination Therapy. It recertified in 2011. We're one of only a few hospitals in Georgia VAD-certified by The Joint Commission. Fewer than 100 centers in the US have this certification. It shows our leadership and best clinical practices in offering LVADs as destination therapy.
How Can We Help You Today?
Need help? We will be delighted to assist you today, so please call us at 404-778-7777. We look forward to hearing from you.
Talk to Our Nurses
Registered nurses can help you find a location or specialist that's right for you.
7:30 a.m. to 6 p.m. EST (M-F)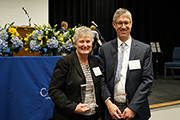 News
Winship doctor and nurse honored at CanCare anniversary celebration
February 27, 2017
Clinical Trials
About Our Clinical Trials
Our new clinical trials site makes it easy to access nearly 1,000 Emory studies.
Blog
Advancing your health
Your opportunity to interact with doctors, staff and patients.
Emory Clinic
About Our Clinics
Our physicians and surgeons are responsible for some of the most significant innovations and treatments in the country.