Registered nurses can help you find a location or specialist that's right for you.
Call 404-778-7777
7:30 a.m. to 6 p.m. EST (M-F)
Advanced Treatment for Your Most Important Artery
The aorta is the most important artery in your body as it carries oxygen-rich blood away from the heart to all of the vital organs. So when you have an aortic condition, you truly need expert care. The Emory Aortic Center offers comprehensive care for the full range of aortic diseases and conditions.
The Center brings together the experience, expertise and passion of Emory's cardiac and vascular surgeons, who collaborate to provide the most appropriate care for the specific needs and anatomy of each patient we see. We also work closely with referring physicians and, when appropriate, other Emory Healthcare specialists to deliver seamless, coordinated care that best meets the individual circumstances of each patient.
In addition to being one of the nation's busiest referral centers for aortic aneurysm, we also offer the latest treatment options for aortic dissection, aortoiliac occlusive disease and infected aortas, to name a few.
Some of our specialties include:
Aortic endografts, standard and complex
Juxtarenal and pararenal grafts
Endografts for aortic dissections
Total arch replacements
Aortic root replacements
Valve-sparing root replacements
Complex reoperative procedures
While we offer the latest endovascular options, we are also a top referral center for traditional surgery. Our specialists have outstanding results in treating aneurysms along the full length of the aorta with open surgical repair.
Our team uses the latest techniques and has access to the most advanced technology to make sure you get the best care possible.
Did you know?
In late 2012, Emory vascular surgeon Yazan Duwayri, MD was one of the vascular surgeons who performed Georgia's first implantation of an FDA-approved fenestrated endovascular graft, for the minimally invasive treatment of abdominal aortic aneurysms that involve the renal arteries.
How Can We Help You Today?
Need help? We will be delighted to assist you today, so please call us at 404-778-7777. We look forward to hearing from you.
Talk to Our Nurses
Registered nurses can help you find a location or specialist that's right for you.
7:30 a.m. to 6 p.m. EST (M-F)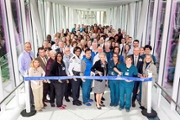 News
Emory University Hospital opens new pedestrian bridge to hospital tower
February 21, 2017
Clinical Trials
About Our Clinical Trials
Our new clinical trials site makes it easy to access nearly 1,000 Emory studies.
Blog
Advancing your health
Your opportunity to interact with doctors, staff and patients.
Emory Clinic
About Our Clinics
Our physicians and surgeons are responsible for some of the most significant innovations and treatments in the country.