Registered nurses can help you find a location or specialist that's right for you.
Call 404-778-7777
7:30 a.m. to 6 p.m. EST (M-F)
Structural Heart and Valve Center
Expert heart & valve care
When you or a loved one is diagnosed with a condition that affects the heart or heart valves that controls blood flow to and from the heart, the specialists at the Structural Heart & Valve Center at Emory Healthcare offer the compassionate care and expertise you need.
Our team [Link to Our Team page below] is comprised of doctors and healthcare providers from a variety of specialties, including interventional cardiology (catheter-based treatments), cardiothoracic (heart and chest) surgery and cardiac (heart) imaging. Due to our multidisciplinary approach to your care, we're able to provide you a thorough diagnosis and more treatment options.
In fact, Emory Healthcare is a nationally recognized academic center of excellence due to our vast array of advanced technologies and treatment options. We offer several FDA approved, minimally invasive, catheter-based therapies, such as Transcatheter Aortic Valve Replacement (TAVR), as well as clinical trials that offer up and coming treatments. This combination of collaborative care and cutting-edge treatments leads to better outcomes for patients.
How to become a patient
Your first visit to our Heart & Valve Center will include an evaluation based on your current symptoms or conditions, as well as a thorough review of your medical history. Patients should bring all medical records related to their diagnosis to the appointment, or submit them ahead of time.
To make a new patient appointment, please call Emory HealthConnection at 404-778-7777 or 800-75-EMORY. 
How Can We Help You Today?
Need help? We will be delighted to assist you today, so please call us at 404-778-7777. We look forward to hearing from you.
Talk to Our Nurses
Registered nurses can help you find a location or specialist that's right for you.
7:30 a.m. to 6 p.m. EST (M-F)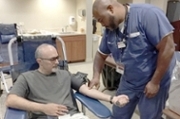 News
Emory Johns Creek Hospital to host blood drive for Red Cross Month
February 28, 2017
Clinical Trials
About Our Clinical Trials
Our new clinical trials site makes it easy to access nearly 1,000 Emory studies.
Blog
Advancing your health
Your opportunity to interact with doctors, staff and patients.
Emory Clinic
About Our Clinics
Our physicians and surgeons are responsible for some of the most significant innovations and treatments in the country.